Personalized Virtual Event Engine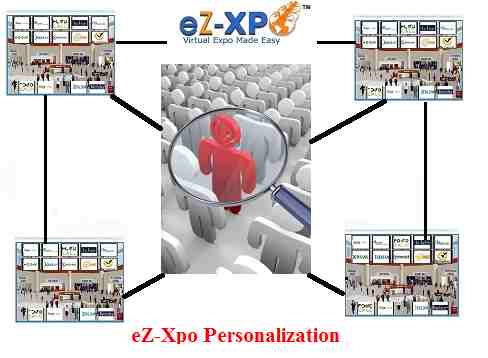 According to the recent top findings in
"The Realities of Online Personalization"
research, 94% of marketers and 90% of agencies agree that "personalization of the web experience is critical to current and future success." The marketing world has wanted — and frankly, needed — personalized virtual trade show for a long time, but historically, there wasn't an easy way to achieve this — until now. Today, for the first time, personalization has moved beyond personalized web site to personalized virtual trade show.
"Personalization is the key to buying experience on every web site. Similarly, every virtual trade show should adopt same model for every virtual trade show. It doesn't make sense for attendees to search through hundreds or even thousand of virtual booths when they want to only see only few based on their ideal preferences in a virtual expo," said Matt Fok, Founder and CEO of eZ-Xpo.
"With this new game changer, eZ-Xpo Personalization will boost every virtual event experience 10 times and even up to 100x times better when an attendee can quickly find their exhibitors in a matter of seconds based on their personalized settings. This feature will also help boost the bottomline marketing ROI for every exhibitor as well," Fok continued.
With eZ-Xpo Personalization Engine, attendees can quickly and easily find their product showcase:
* Event Organizers – Organizers can easily and quickly personalize every virtual lobby and virtual booth through the registration form based on the targeted customers in each event.
* Exhibitors – Exhibitors can laser-target their ideal attendees (customers) by offering specific product categories for their virtual booth.
* Attendees – Once attendee fills out the registration form with their preferred product categories, the virtual trade show system will automatically personalize his/her virtual lobby, exhibit hall based on the preferred product categories.